A Complete Guide to UK Bed Sizes
Here in the UK, bed size measurements are determined by the mattress size they hold. Typically, these are referred to in imperial measurements, but we've included a table below which specifies the equivalent metric measurements for ease too.
| UK Bed / Mattress Size | Dimensions (Imperial) | Dimensions (Metric) |
| --- | --- | --- |
| Super King Size | 6'0" x 6'6" | 180 x 200cm |
| King Size | 5'0" x 6'6" | 150 x 200cm |
| Double | 4'6" x 6'3" | 135 x 190cm |
| Queen | 4'0" x 6'3" | 120 x 190cm |
| Single | 3'0" x 6'3" | 90 x 190cm |
| Small Single | 2'6" x 6'3" | 75 x 190cm |
What size bed should I go for?
This is certainly the uppermost point to consider, closely followed by style, fabric and colour, when you are looking to buy a new bed.
While the lengths vary slightly between UK bed sizes, it is the bed width which provides the greatest step-up in space. This is just something to consider if you're thinking about going up a size to your current bed – and a reminder to measure the space it's going in to ensure it still fits comfortably.
Remember – we are talking about the mattress measurements here, so depending on your bedframe style, you'll just need to consider the additional space this will take up too.
Super King Size
How big is a super king size bed?
If you're buying a new bed, and size doesn't matter, no doubt you've asked, 'What's the biggest bed size I can have?' A super king size bed is pretty much as big as they come. Offering more than enough space – and then some – for two adults, it will give you an additional 30cm, or 1'0, in width compared to a king size.
Something to consider
The bedframes for a king size or super king size could be substantially larger than their respective mattress sizes specified here, so we would just say to double check it will fit comfortably into your bedroom before deciding to jump up to a bigger size.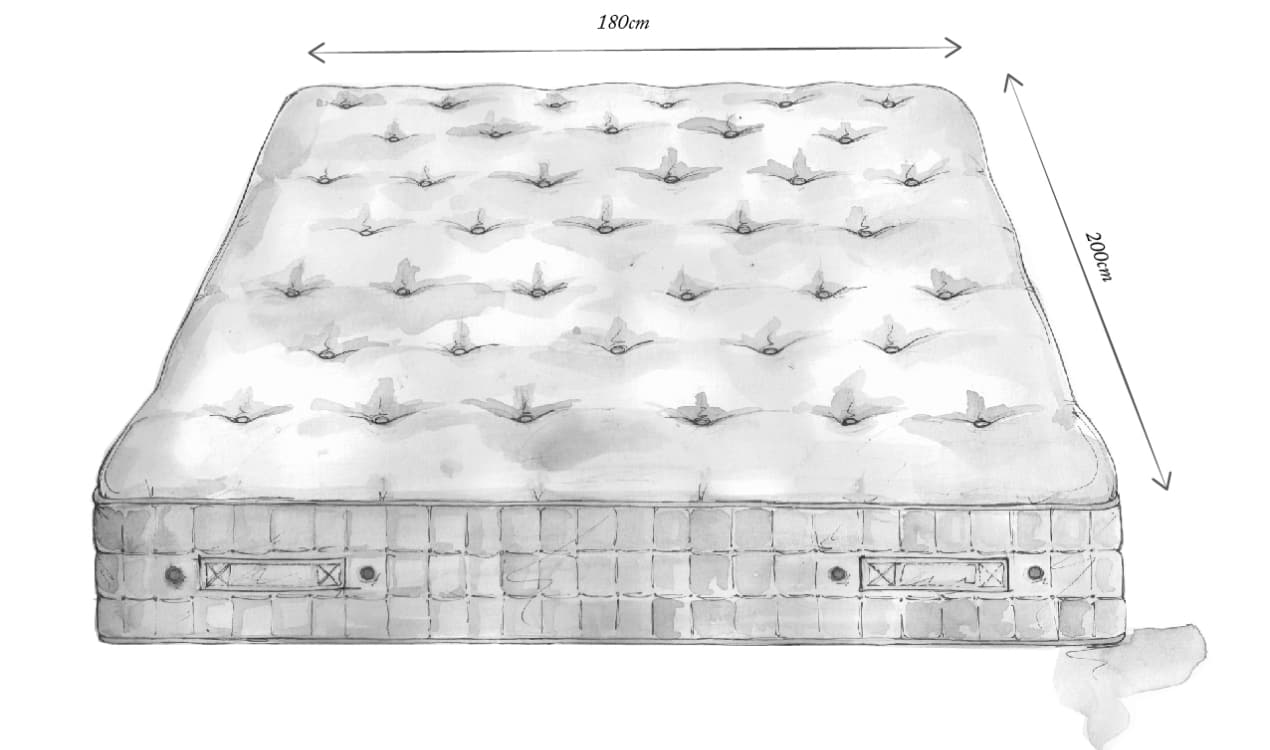 ---
King Size
How big is a king size bed?
A little longer than a double bed, a king size bed offers an extra 15cm in width too, providing more than ample room for two adults to sleep comfortably side by side.
How long is a king size mattress?
A king size bed also gives you an additional 10cm in length to that of a double. It might not sound much, but it can make all the difference if you're a little taller and want to have enough room to stretch out.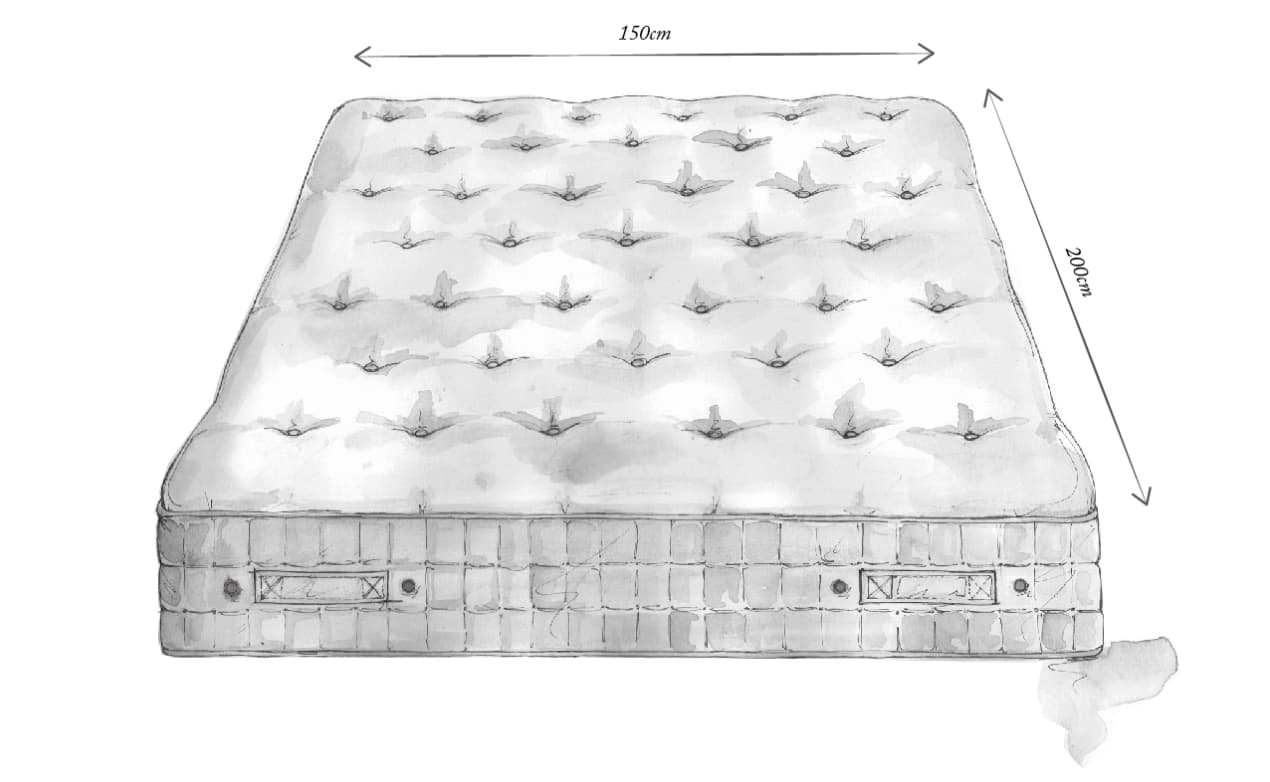 ---
Double
How big is a double bed?
Typically, the most widely used bed size for two adults, a double bed offers enough room to sleep two people comfortably.
How wide is a double mattress?
At 4'6", or 135cm wide, a double bed is a good option for smaller bedrooms. Like the single, we would recommend choosing a slimline bedframe to make the most of the space you have.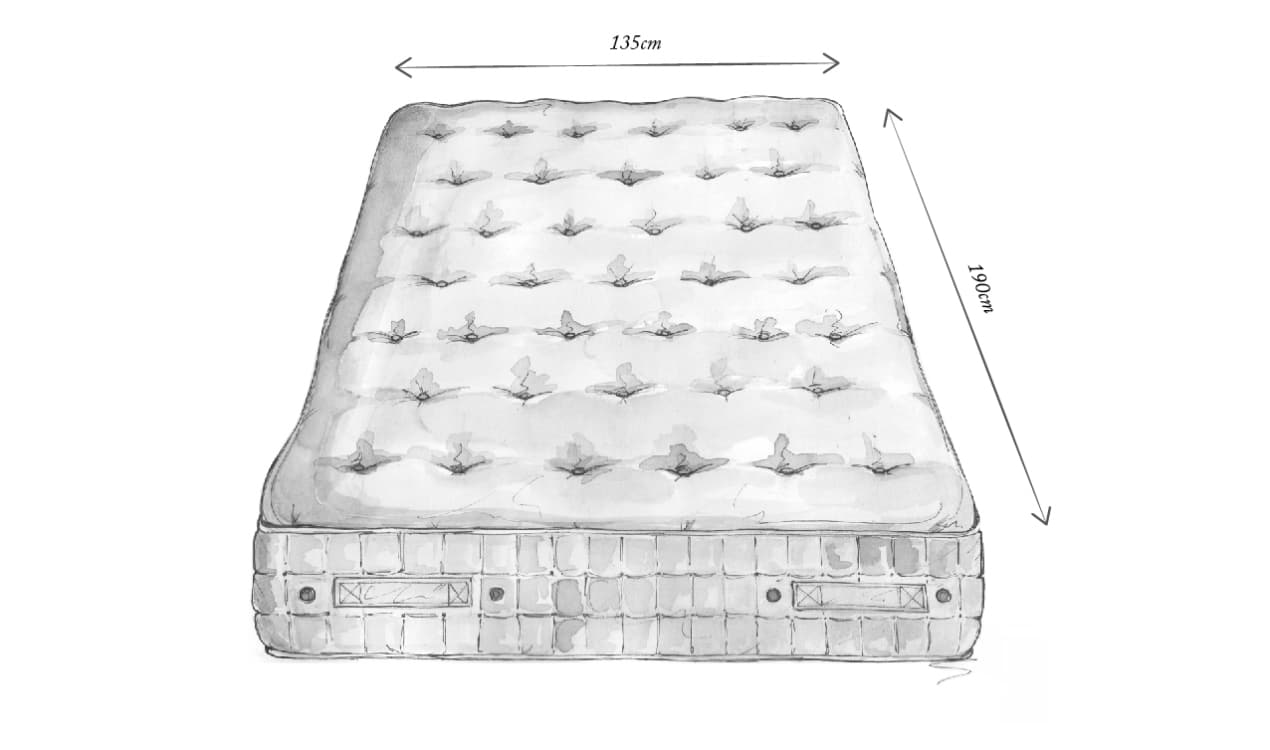 ---
Queen
How big is a queen bed?
You still get the same length with a queen bed that you would with a double at 190cm or 6'3".
How wide is a queen mattress?
A queen bed comes up a little narrower than a standard double at 120cm. It does give you an additional 30cm compared to a single, so a queen bed is ideal for a single sleeper.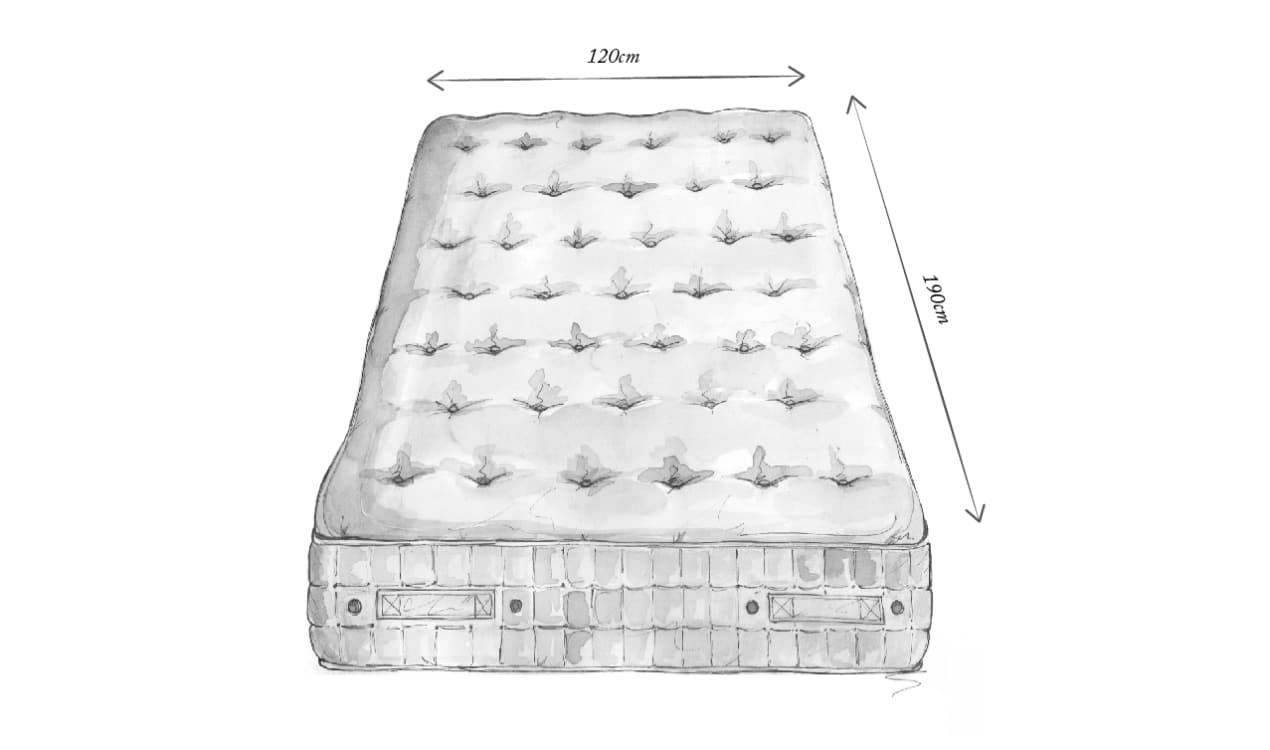 ---
Single
How big is a single bed?
A single bed is the most common size for children's beds, but it also provides enough room for a single adult sleeper too with a length of 190cm.
How wide is a single mattress?
At just 90cm wide, a single bed is perfect if you're a little short on space. Pairing it with a wooden single bedframe will help with this too.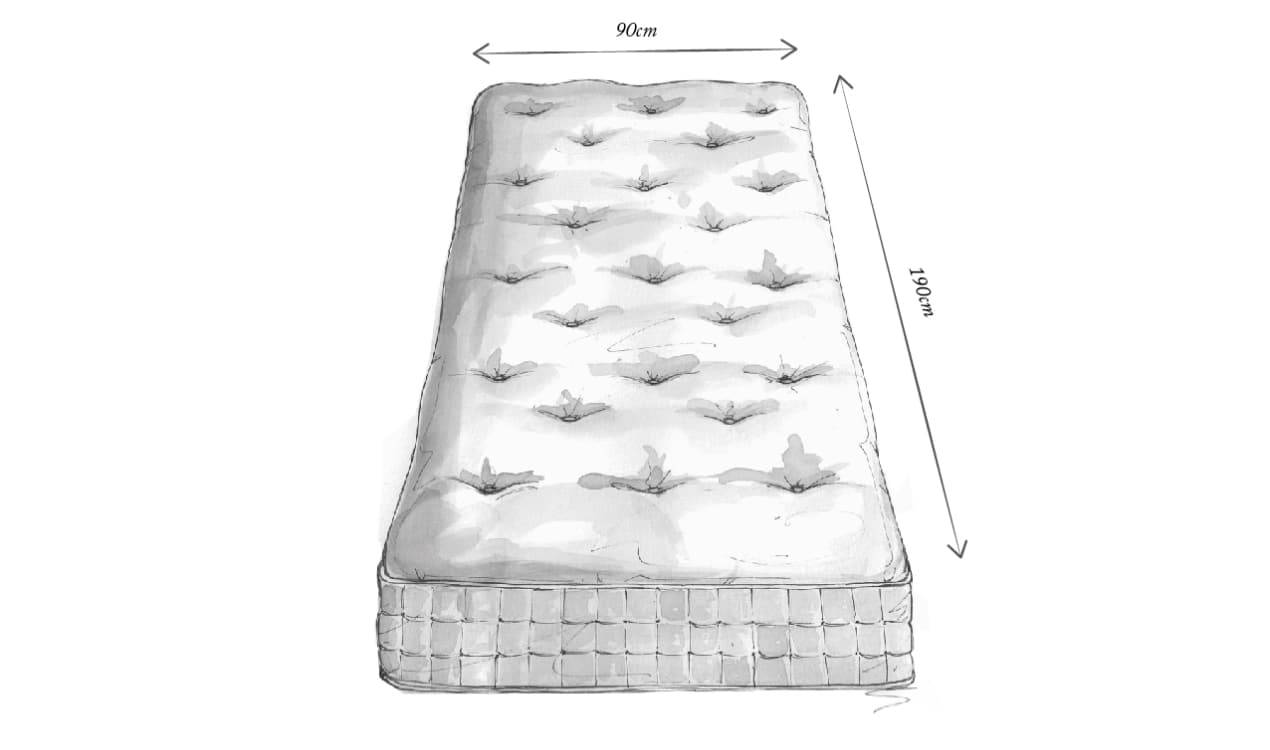 ---
Small Single
How big is a small single bed?
This is a great space-saving option for a child's bedroom, or even for a smaller guest room. It's narrower than a single at 75cm, but the length remains the same at 190cm, so you needn't worry about an adult sleeping in it for a night or two.
---
What else should I consider when buying a new bed?
Choosing a bed frame
Whether you're thinking of a plush new velvet bedframe or a grand French-inspired design, the style and fabric of your bed can impact its size too.
While you may have decided to upgrade from a double to a king-size – buying a new king-size mattress to fit using the bed measurements above – the actual bedframe measurement can vary quite significantly, depending on the style you choose.
Sleigh beds for example, often include a sturdy and wide base with a rolled head and footboard, substantially lengthening the bedframe. While upholstered beds tend to be much bigger in width to a classic wooden bedframe, due to the material, detail and padding used.
Therefore, don't base your final measurements on the UK bed size alone, as these only account for the mattress. We always recommend double checking the dimensions of your new bedframe before buying to ensure it fits comfortably into your space. You'll want to be able to move about either side and ideally, have room for a small bedside table or chair too.
Think about the space
If you've decided on upgrading to a king-size bed and checked to see it fits comfortably in your bedroom, there are a few other points we would suggest considering before you purchase. As we've mentioned above, the bed frame can be much bigger than the mattress so it's also worth thinking about the skirting and door frames in your bedroom.
When the bed is in place, will you still be able to open doors, drawers and windows fully? Plug sockets are another consideration. If these have been measured and put in place to accommodate a double bed, will you still be able to reach them for a plugging in a charger or bedside lamp? If you have high ceilings, this might not be as much of a consideration, but for smaller guest rooms or those with eaves, it's worth thinking about the height of your headboard, as well as the width and length of your new bed.
Before you decide, one last – and important! – point to consider is access. This applies to the bedframe as much as the mattress. Will you get it comfortably up the stairs and will it be easy to manoeuvre around corners and doorways? Many bedframes will arrive part assembled, but it's always worth checking, just to be sure.
Buying a new mattress
You don't have to buy a new mattress with your bed, but many of us like to purchase both items at the same time for convenience.
Our new Pure Natural Mattress Collection, exclusively produced for The Cotswold Company, offers three sumptuous mattress styles to choose from: The Stow, The Dursley and The Malmesbury. Each mattress is expertly handcrafted to order by master mattress artisans here in the UK to ensure every stitch is given with the upmost care and attention. Using traditional mattress making methods alongside modern innovation for the very best in comfort and support.
Filled with exquisite, hand teased British wool from family-run farms in Dartmoor and finished with the purest chemical-free materials, even the hand tied pure wool tufts are unbleached and entirely natural.
It's a collection we're incredibly proud of – and one we know you'll love too.
Which mattress should I choose?
When it comes to our Pure Natural Mattress Collection, it is the loose hand teased Dartmoor wool which gives each mattress their unrivalled comfort and sumptuous feel. As you step up in the collection from The Stow to The Malmesbury, we pack more of this beautiful soft British wool into each mattress, together with additional Comfort Intelligence pocket springs for even more support. For added peace of mind, we also increase our longevity promise if you decide to invest a little more, with a comforting 6, 8 or 10-year guarantee on each mattress option.
The Cotswold Classic Collection is a mattress collection for all the family, with each one handmade here in the UK. Our Classic Collection blends craftsmanship with thoughtfully chosen materials for a comfortable and affordable night's sleep.
---
We hope this UK bed size guide has helped you with your decision – please don't hesitate to get in touch if you have any further questions about choosing your new bed.
Subscribe
Sign up to our weekly email to receive updates on exciting new product launches, seasonal sales, exclusive email discounts and inspiring interiors
Opt in to receive The Cotswold Company Emails